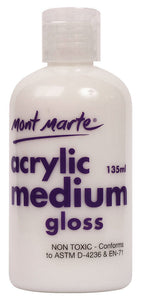 Mont Marte Acrylic Gloss Medium is designed to be mixed with Mont Marte Acrylics to impart a glossy finish to your acrylic painting. 
Ideal for creating thin glazes, washes and watercolour effects without reducing adhesive qualities or colour strength. 
Mont Marte Acrylic Gloss Medium increases the flow of paint and slightly increases the drying time of acrylics allowing paint to be more easily blended. 
Gloss Medium enhances the brilliance of acrylics adding vibrancy to your art work. 
Not designed to be used as a final varnish. 
Clean up with water.