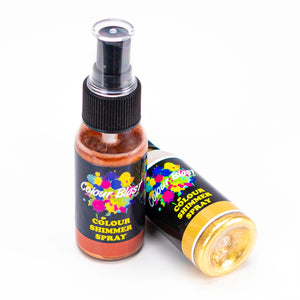 Water based shimmer spray.   Ideal for creating shimmery backgrounds or effects on your creations.  Looks great on dark surfaces.
Directions: Shake well before use.  Spray directly onto porous surfaces for coverage.  Re-apply for desired finish.   
Water based, acid free, non-toxic and non flammable.  
Warning: Not for use under 12 years of age without adult supervision.  Do not drink.  Avoid contact with eyes.  If you get this in your eyes, wash your eyes out and seek immediate medical attention.